Specialist Wooden Floor Restoration in Essex
At Barfords, we have dedicated a lifetime to our craft in tailormade wooden floor restoration and our craftsmen take great pride in restoring wood to best showcase its natural character and charm. We are highly recognised as specialist wooden floor restoration experts across Essex, meaning that you can rely on us to make trusted recommendations and guide you through every step of the process
Get your FREE quote today
Fill out this form to receive your free quotation for our professional & reputable Wooden Floor Restoration in Essex
Have any questions or queries?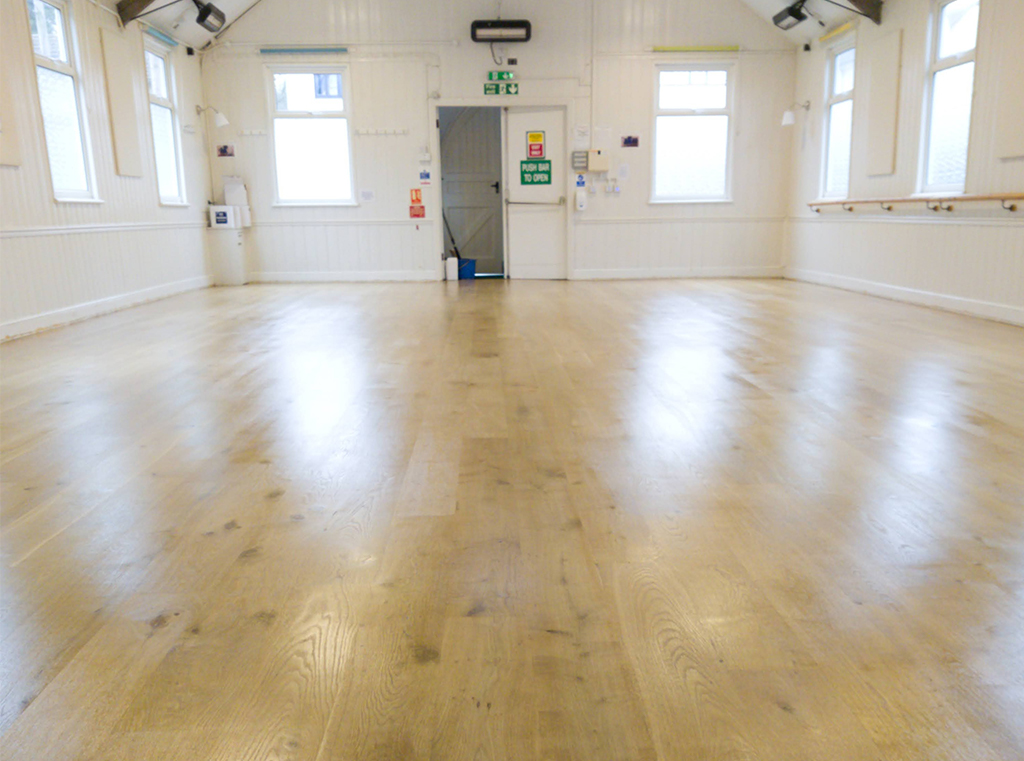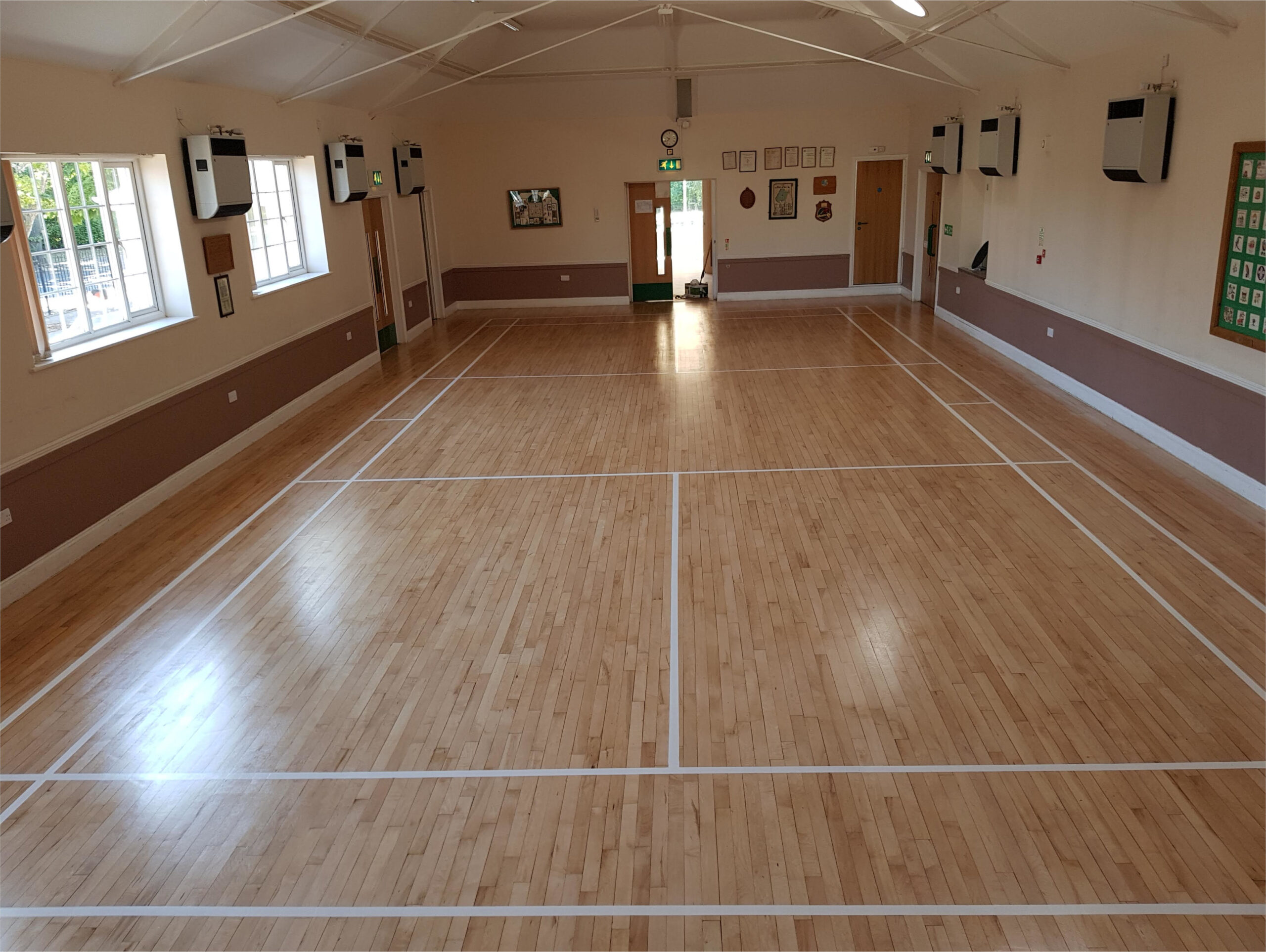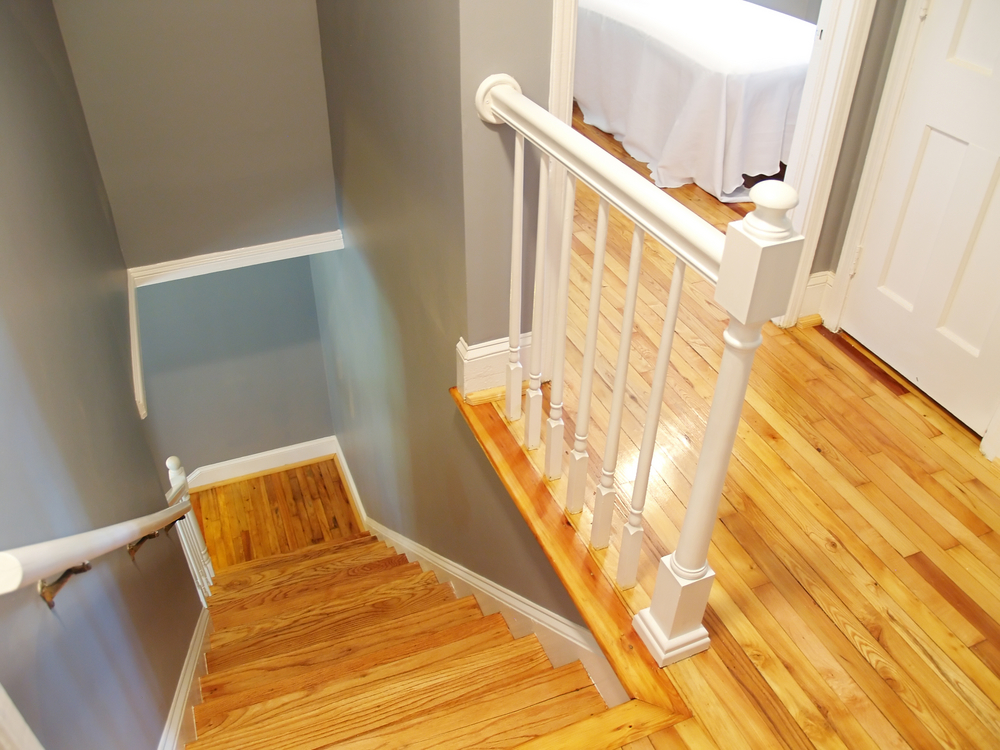 Our Specialist Wooden Floor Restoration Services
We specialise in quality wooden floor restoration in Essex and take pride in restoring damaged flooring, doors, panelling and furniture to their former glory. We use proven techniques combined with the finest quality materials, to faithfully restore your wooden articles with the utmost efficiency and without compromising on your budget.
Every time you come to us for your wooden floor restorations, you can take advantage of our personalised service where every part of your project is tailored to your requirements. We have worked on wooden floor restoration projects in homes, theatres, community spaces and more, and we can confidently take on your project, whatever its size or scale. The cost of sanding hardwood floors is bespoke to each individual project. If you are looking for a Specialist Wooden Floor Restoration quote, then call us today.
Our Expert Guide – How to Restore a Wooden Floor
At Barfords, we have dedicated a lifetime to our craft in quality wooden floor restoration and our craftsmen take great pride in restoring damaged wood flooring, doors, panelling, and furniture to best showcase its natural character and charm. We take great pride in restoring wood to its former glory and use proven techniques and the finest quality materials, to faithfully unveil their unique characteristics and features. If you've been wondering how to restore a wooden floor yourself, then look no further than our expert guide which includes everything that you need to know about wooden floor restoration – from which tools and supplies you'll need, the best methods to use and how exactly you can go about breathing new life into your flooring.
Restore your wooden floor in 10 simple steps…
Whether you've removed aged carpet and have discovered an original parquet wooden floor or if you'd like to refresh beloved wooden flooring that has incurred wear and tear over time, there are a huge number of reasons why you may be looking to restore your wooden floor. If you've been looking for expert advice about how to restore a wooden floor, then you could have found the answer with our guide. Our experience means that we have been able to narrow down the wooden floor restoration into 10 simple steps that can easily be followed and carried out by anyone.
Protect your furniture, surroundings and yourself
Whether you're carrying out your wooden floor restoration in your home or community space, you must take the necessary steps to protect and remove any furniture or possessions that you don't want to get dirty or damaged throughout the process. If you can, you should remove everything from the room, but if this isn't possible then a plastic or canvas sheet or covering will do the job nicely. We recommend that you wear clothes or overalls that you're not afraid to get dirty, as well as protective goggles and a dust mask for ultimate protection throughout the process.
Gather your tools and supplies
If you've been searching for how to restore a wooden floor, then you'll probably have a good idea of the tools and supplies that you'll need to complete the job. If not, then you'll likely need to buy, borrow or hire the following:
Sand your floor
Once you've removed everything from your room and have collected all of your supplies, it's time to begin sanding your floor. Our top tips for floor sanding are to move the sander at a steady and even pace, we also recommend moving the sander in the direction of the wood's grain instead of against it. Be sure to empty each bag of sawdust as it fills and dispose of it properly.
Edge the walls
There will be areas of your room that the floor sander won't be able to reach, to make sure that your floor is properly sanded, you should use an edging machine for these hard-to-reach areas and may even need to use sandpaper for some of it for maximum results.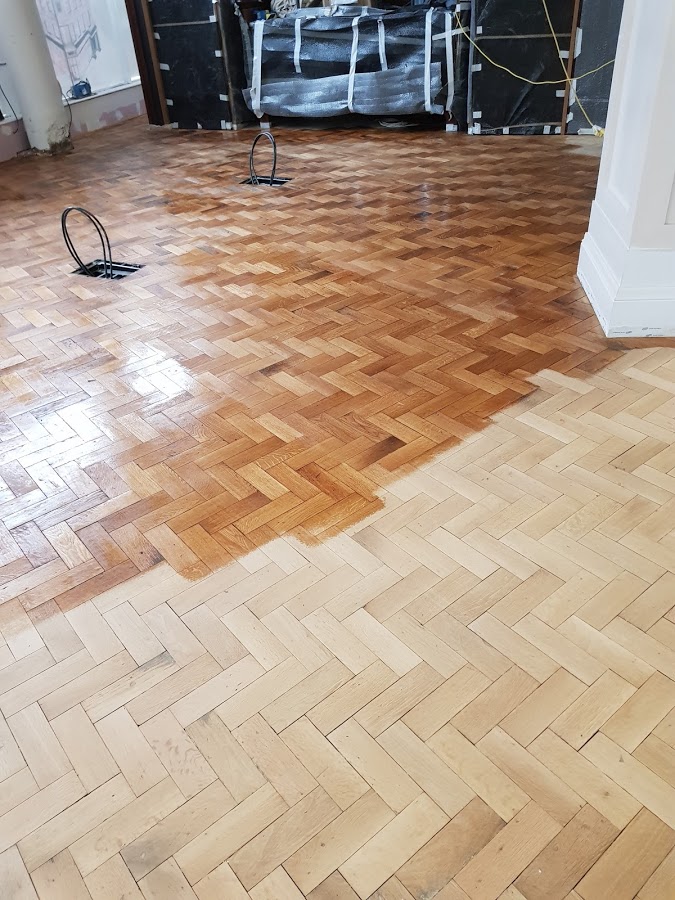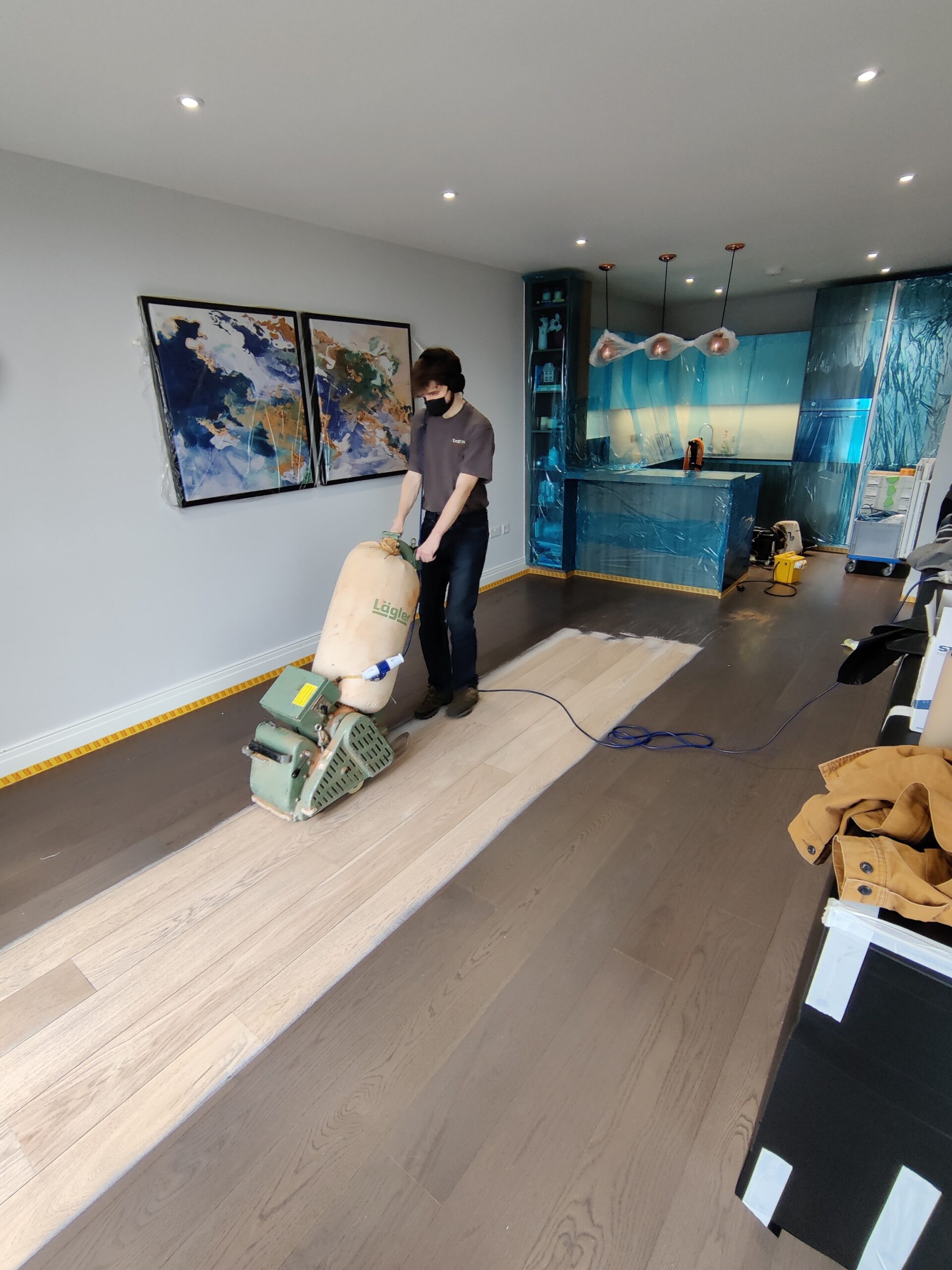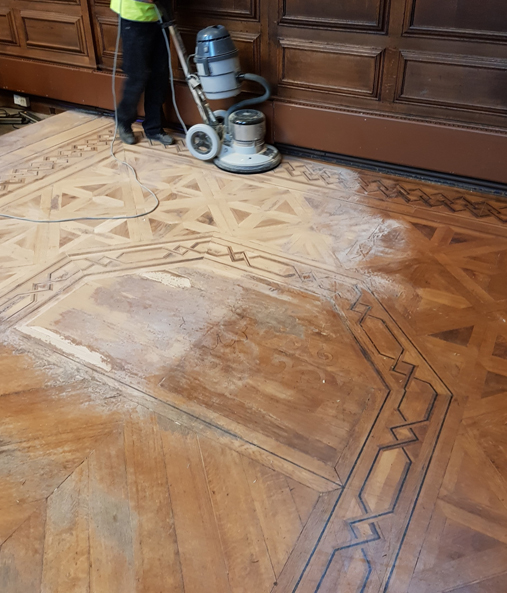 Buffer your floor
Once you have efficiently sanded your flooring – we recommend doing this at least three times with different grits of sandpaper – it's time to vacuum and buffer your floor. The aim of buffering your flooring is to blend the entire floor so that there are no visible marks or 'seams' between where you have used the floor sander and edging machine for a smoother finish. Once you've finished buffering the floor, you should leave the dust to settle for around 20 minutes before vacuuming up the debris.
Prepare the floor for the Polyurethane finish
Using a tack rag mop, you should move around the room in the direction of the grain of the wood to gather up any particles which may have been left behind by the vacuum – this ensures that your Polyurethane finish will lay flush on the floor for a smooth finish.
Apply the Polyurethane finish
Now that your floor has been properly prepped, you can dispense your Polyurethane into a container – we recommend a disposable roasting pan. Using a synthetic wool applicator, you can begin coating your flooring with the finish. We also recommend having a foam brush or paint pad to hand to get into the corners and hard-to-reach areas of your room.
Buff the flooring
Following the manufacturer's instructions, ensure that the first coat of Polyurethane is completely dry before using the buffer at 100-grit to knock down the finish, use the same grit sandpaper to hand sand any areas the buffer can't get to and focus on corners and along edges for a cleaner finish.
Vacuum and mop the floor
Once you've completed this step, let the dust settle again before vacuuming and using the tack rag mop again.
Apply the second coat of Polyurethane
In the same method as above, apply a second coat of Polyurethane to your floor and, if you're seeking a more durable finish, a third coat can also be applied.
Although you may be looking for how to restore a wooden floor, you may not need a full restoration as described in our guide. If you only require some small updates to your flooring, here are some of our top tips to easily refresh your wooden floor:
Fill unwanted gaps with a trusted filler product.
Fill in larger gaps with new wood and wood glue.
Cut a new board section from scratch and replace the damaged piece entirely.
Repair your varnish to eliminate unsightly scratches or damage.
Keep your flooring clean and be sure to address any issues to prevent further damage.
We hope that you have found our expert guide on how to restore a wooden floor helpful. By using these proven techniques combined with the finest quality materials, you will be able to fully restore your wooden flooring with the utmost efficiency and without compromising on your budget.
How Does Wooden Floor Restoration Work
1. Contact us today!
Call us today to discuss your wooden floor restoration requirements in Essex and we'll provide you with a free, no-obligation quote
2. Book your time and date
We can be booked to complete the works at a time and date that suit you, so you can rest assured that we can accommodate your schedule with ease
3. Communication
We aim to keep our clients up-to-date with our progress and pride ourselves on our high levels of communication
4. Preparation is key!
We will arrive fully prepared to address your wooden floor restoration including any materials and tools that we may require
5. Job complete!
We will complete our work with efficiency and ease, without compromising on the quality and your levels of satisfaction
Does Your Old Wooden Furniture Require Our Specialist Wood Restoration Services?
Mixing things up, we're going to walk you through how we worked to restore this pre-used unloved Mahogany Chest of Draws until it was better than new!
It was brought on an online auction site, with only a couple of bidders – as you can see in the photos below, this Mahogany Chest of Draws had seen better days !! It is approx. 80 – 100 years old, the top and draw fronts are mahogany veneer. Its sizes are 1.1 meters high 80cm wide & 4cm deep. So a good size for a modern bedroom. We purchased the unit we first took it into our workshop. The existing finish had almost entirely decayed through wear and tear, as well as poor storage in the shed. The top suffered ink marks, that had not been wiped off. As you can see, the mahogany framework wood was also damaged. What the pictures do not show is the smell of engine oil, that lingered for a week.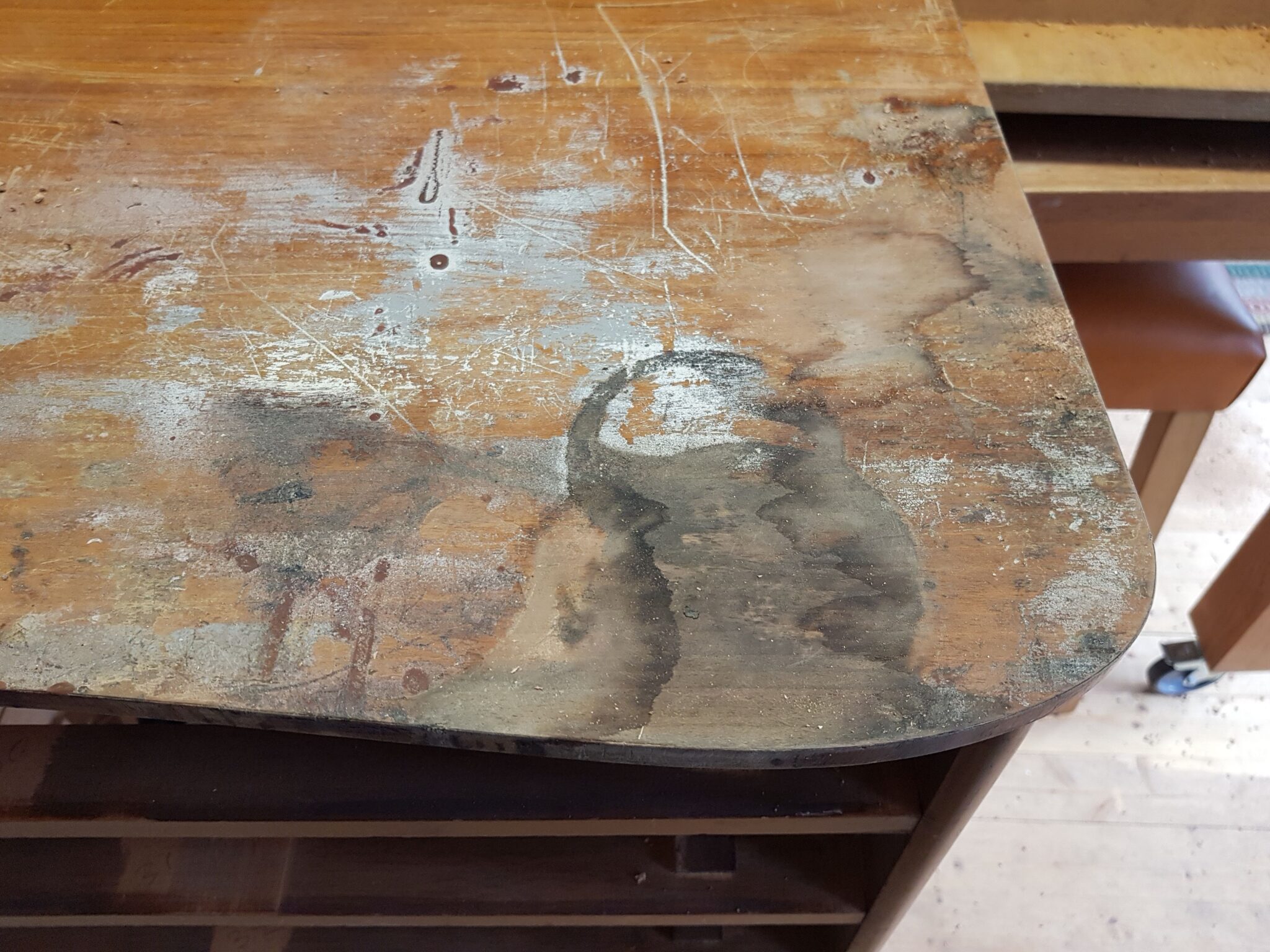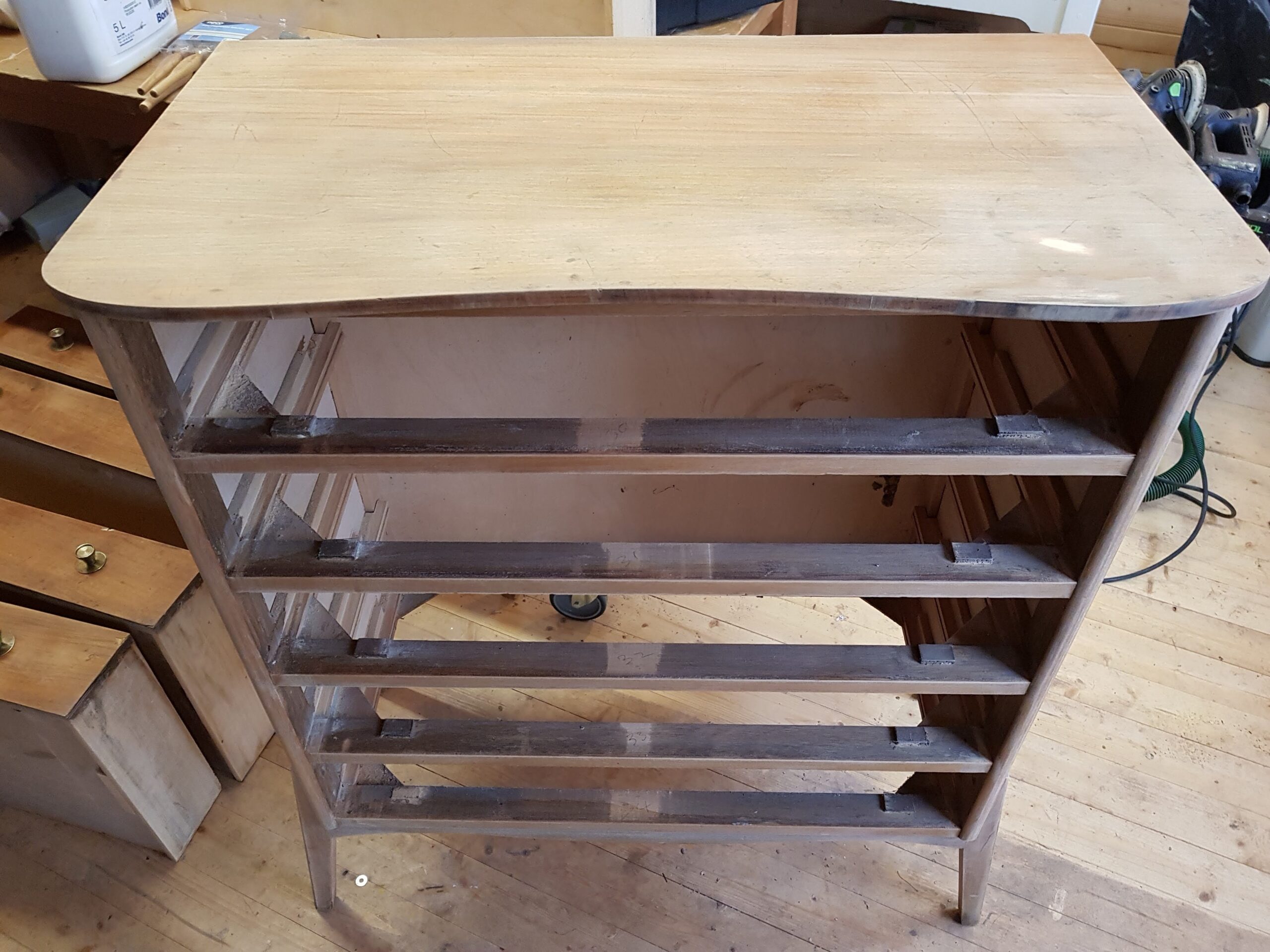 Chest of Draws Restoration Process
As with many undertakings, the first step is to remove the draws, put them on the bench and clean up so we can better see what we're working with. As the existing finish on the chest of draws was too badly damaged. We decided to carefully chemically strip the existing finish, together with a light sanding to remove a lot of the roughage, as well as stripping away remnants of the original finish So as not to damage the mahogany wood and veneering. It's very important to do this carefully and thoroughly, as whatever finish we decide to use, it will enhance and accentuate whatever is beneath it. In this case, if there are remnants of the original finish remaining, they will show through in our finished product, creating an undesired contrast in both colour and tone. The ink blotting had to be removed with an acid solution, which worked extremely well. As with all solvents, always use the correct PPE in a well-ventilated area.
What Is Mahogany Curved Chest of Draws Restoration?
The structure of the unit also required some work to repair and strengthen it. During the Mahogany Curved Chest of Draws Restoration, several of the drawers was weak at the seams, and one of the legs at the base was crooked and required replacing. We carefully sourced a matching wood replacement, cut it to size and affixed it, taking care to ensure the top surface of the unit was level. We also took care to check the runners on each drawer were level and smooth. While a lot of contemporary drawers will use small wheels in their runners to help guarantee ease of use, this piece of furniture precedes such trends and we wanted to keep it that way. With that in mind, the runners had to be finely sanded to keep the surface both within the unit itself, as well as on the drawer, as smooth as possible to keep any friction to a minimum. Later in the project, we'd apply a generous coat of wax to the runners to help lubricate them.
With the structure of the unit repaired, it was time to get some fine smoothing done! This is important to ensure that the product is smooth to the touch at the end of the job, but also to work to mitigate and remove as many traces of damage as possible. When wood is mishandled, dropped and stored improperly, it can be dented and suffer imperfections. Unfortunately, these marks and blemishes can be tough to remove. When sanding, you are always reducing the amount of wood you have to work with, you can never gain surface area, only lose it.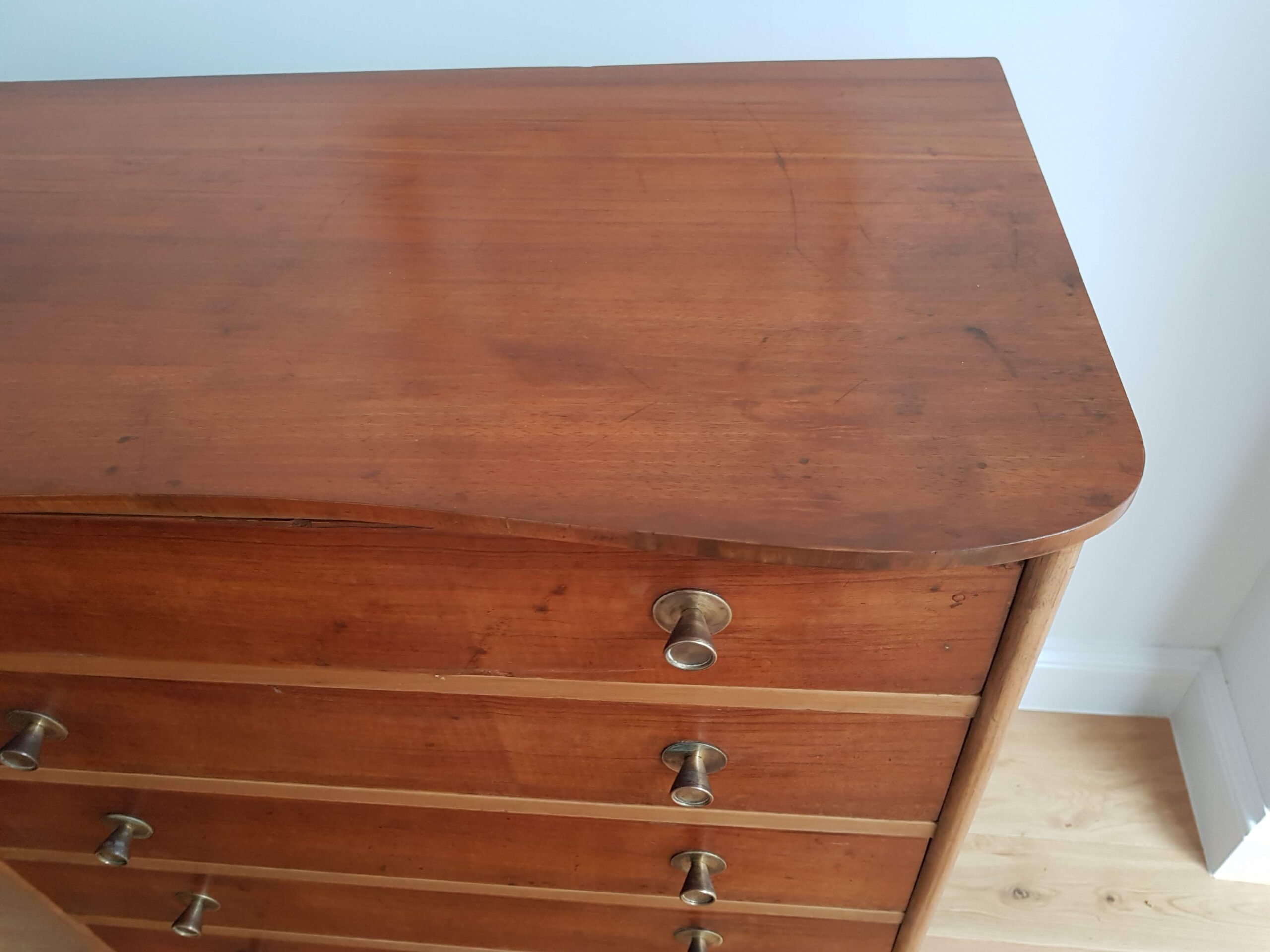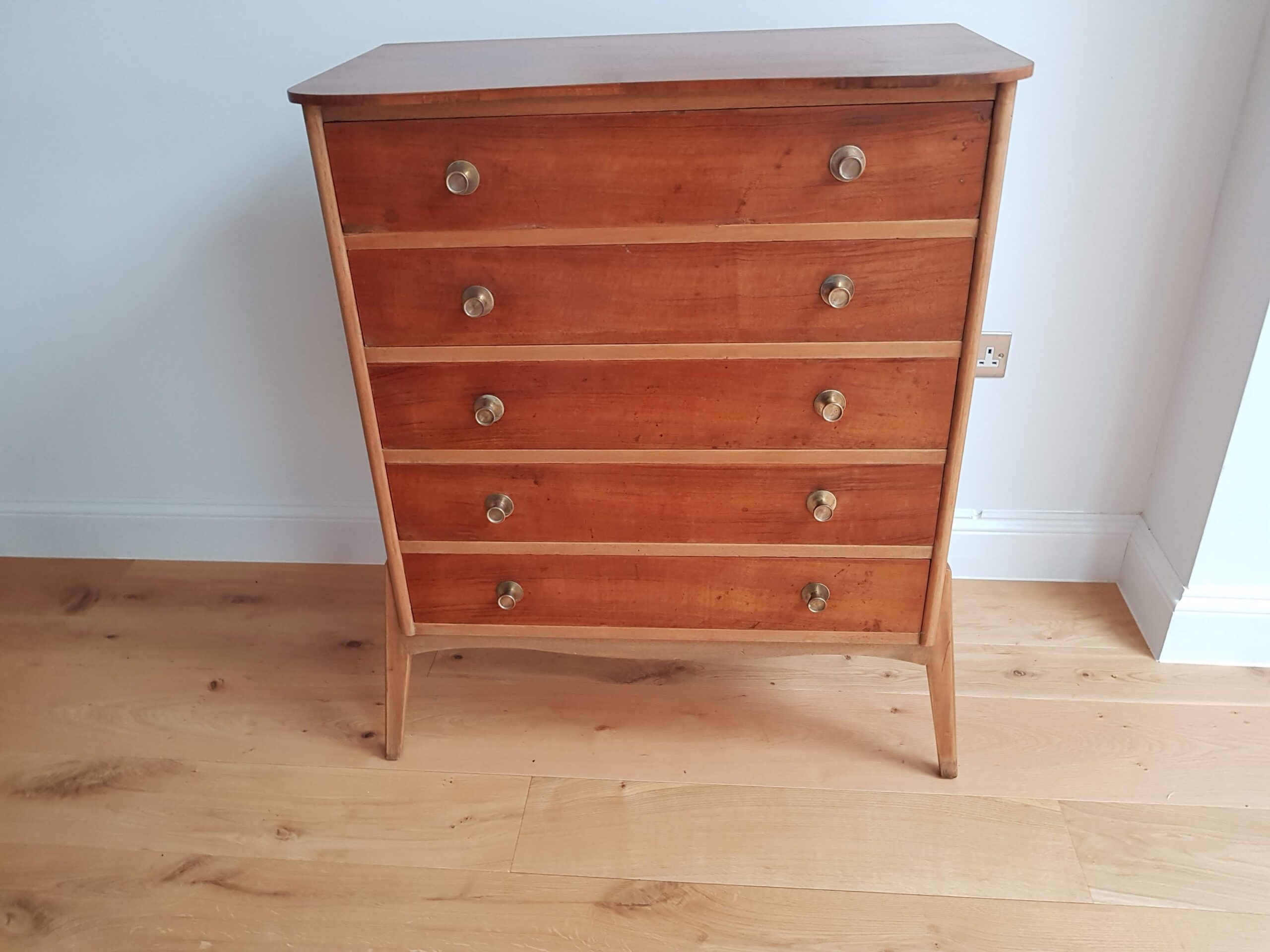 Since many of the damages suffered are gouges and dents, they also cut into the amount of wood you have to work with. Sanding to level these out is a fine balancing act, as if you're not careful, to remove a gouge you can end up creating a big dip in its place. With this in mind, it can often be best to tidy up any blemishes to remove rough edges, and then use a natural wax to fill in the gap. We did this multiple times during this project, and as is often the case, when you do something right, nobody notices you've done anything at all. Blending this natural wax into the grain of the wood to match the colouration is a very time-consuming process, but one that is worth it in the end.
With the unit and drawers fully sanded, it was time to apply our finish. In the end, we settled on using traditional french polish, to keep in sympathy with the mahogany and finished with beeswax, this gives a lighter, natural finish that allows this wonderful mahogany C.O.D. to blend seamlessly into a modern home setting. We are also specialists in wooden floor restoration as well as all your wooden furniture! Don't buy new with Barfords.
Give us a call today for your FREE quote
Barford Contractors were excellent. The floor was transformed from an old orange colour, to looking fresh and brand new. Alan's communication was fantastic from the start. I would definitely recommend Barford Contractors to anyone wanting their floor transformed.

Rachel F
Barford Contractors LTD laid oak parquet in our hallway and two front rooms. Throughout the process the communication was great and they were very receptive to our feedback and went the extra mile to make the flooring how we wanted it.

Charlotte G
Alan and Mark restored our near 70 year old lounge and hallway parquet flooring, which had been covered by carpets for many years.The work was completed on time, and it now looks like a new floor.

Tony Bowden


Barfords, restore anything, from antique flooring to modern grey styles and natural finishes. All with an environmental awareness and in a professional and friendly manner. We also restore most woodwork, and offer free estimates.
Barford Contractors Ltd,
16 Scrub Rise,
Billericay CM12 9PG