How To Turn Your Wooden Staircase Into An Elegant Focal Point?
You are most likely wondering how we turned this wooden staircase into a beautiful french polished feature straight out of Paris. At Barfords, we work closely with our clients to ensure all needs are met and they are over the moon with the finished product. We want you to tell your neighbours and friends about us!
For this project, our client requested that their newly fitted, bespoke mahogany-type staircase and handrail be stained darker to contrast with the runner-carpet to be fitted, and then to be traditionally French Polished for a gorgeous, glossy finish. We supplied several sample sections of various tones. This allowed our clients to see how the finish looks in both natural and artificial lighting.
Once the sample was agreed, we started by cleaning the wood down and lightly sanding it with the finest grit abrasive to repair any damage and scuffs it had suffered. Next up, we needed to mask each individual, handmade steel spindle to protect the unique colouring. Then we thoroughly protected the staircase and surrounding area. Using low-tack masking tape and polyurethane sheeting, we sealed the skirting boards, walls, floor and everything else that could be marked. Safety first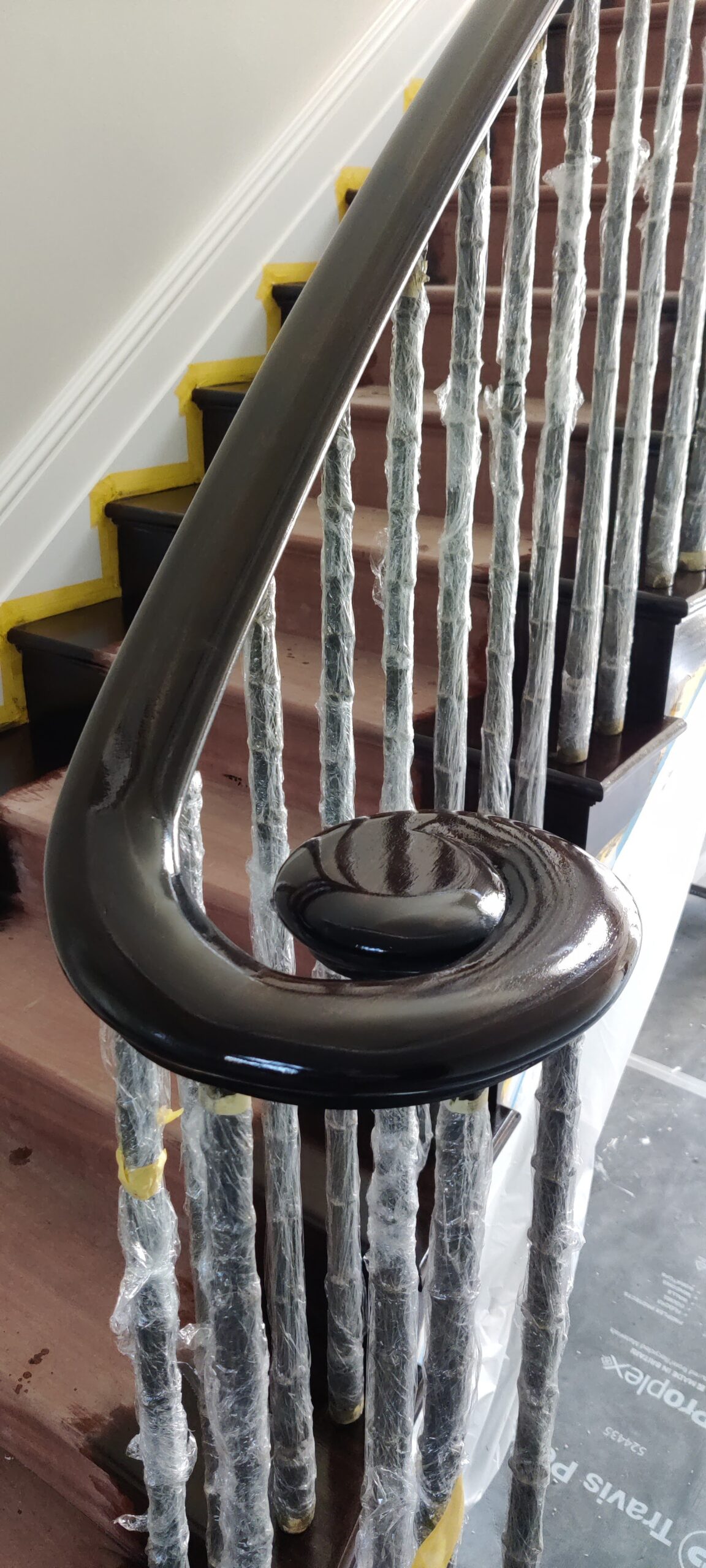 The Mahogany Staircase – Stained and Fully French Polished  To A High Sheen Finish
We then mixed up a natural, traditional water-based stain out of walnut husks to darken the wood. This effect can produce variable results depending on the species of wood, and in this case, it produced a rich, dark nutty-brown that really accentuated and highlighted the grain of the wood. In particular, it really emphasised attention to the contrast in tones between open and closed grains, adding streaks of near-black as well as warm red hues that knot the finish together.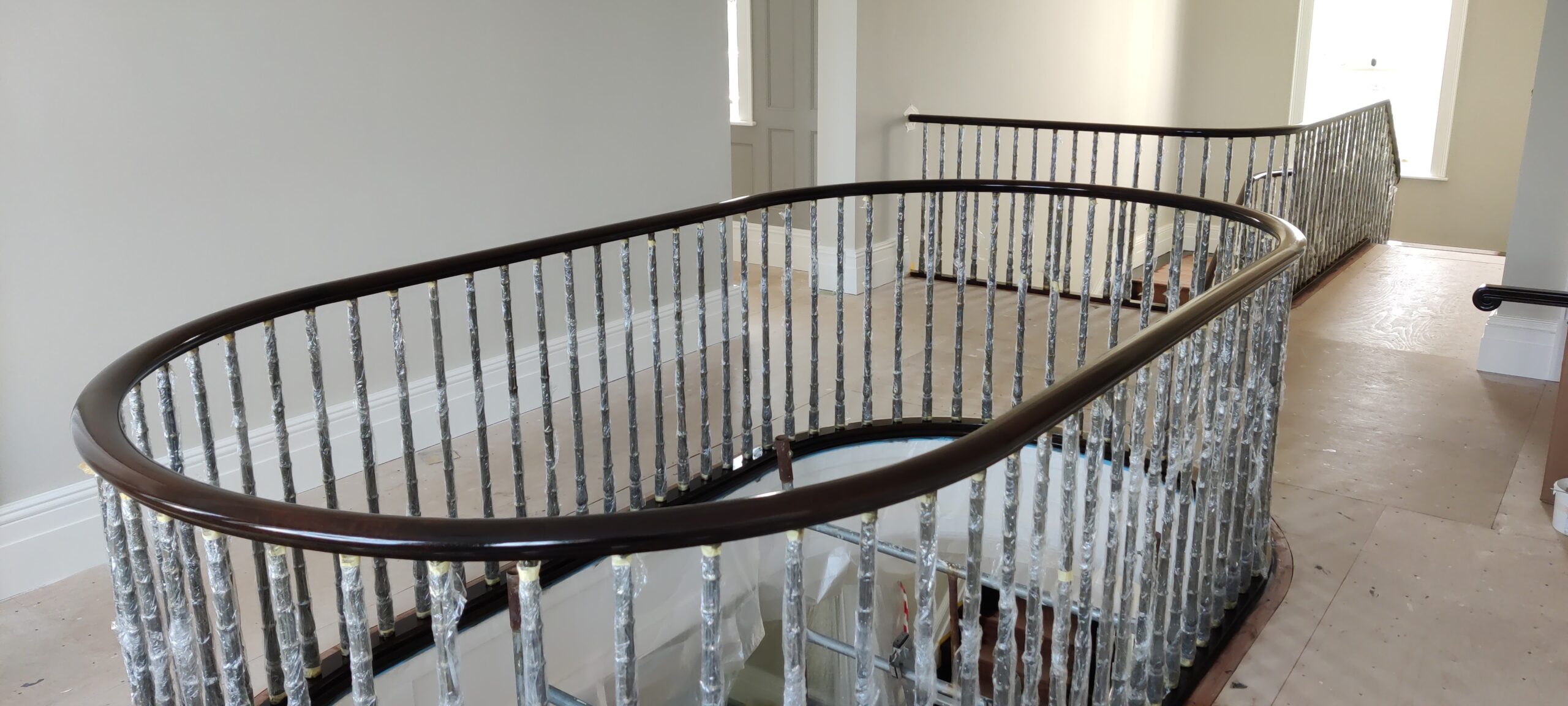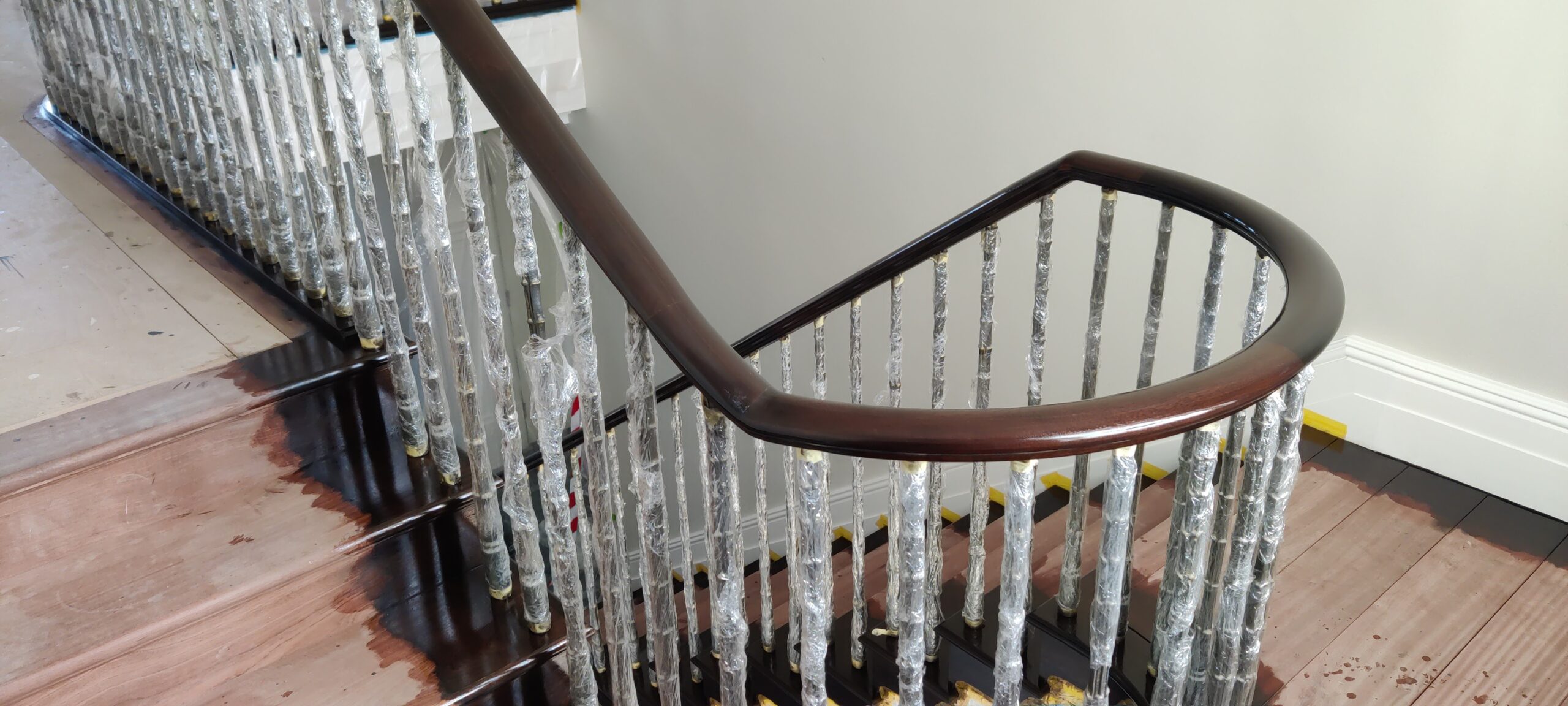 Once the stain had dried, we commenced with the polishing. French Polishing is a very delicate process, requiring multiple applications to achieve the desired finish. In the end, we applied 9 coats of shellac polish to reach the clients satisfaction! Each coat of polish is very thin and builds upon previous coats to add depth and richness to the staircase.  Although, for us, most important of all, is that French Polish will start to dry almost immediately! Each coat must be precisely applied for maximum effect, as there's no room for error. Should your hand start to stray, you don't have time to touch it up after or you risk tearing the finish. Long, continuous strokes are needed to apply the polish correctly, as it dries so fast that a careful eye can tell in which direction (and even how) the polish was applied.
In total, we coated up 20 steps, door thresholds and several handrails throughout the house, but you have to remember that each was carefully coated 9 separate times! 180 individual applications of French Polish, but we think you'll agree that the end result was well worth it.
French polishing gives a superb finish and is extremely adaptable. It gives the highest quality finish that improves in time like a vintage wine. As well to fine homes, we have also been commissioned on private jets, luxury boats, banks, embassies and hotels.